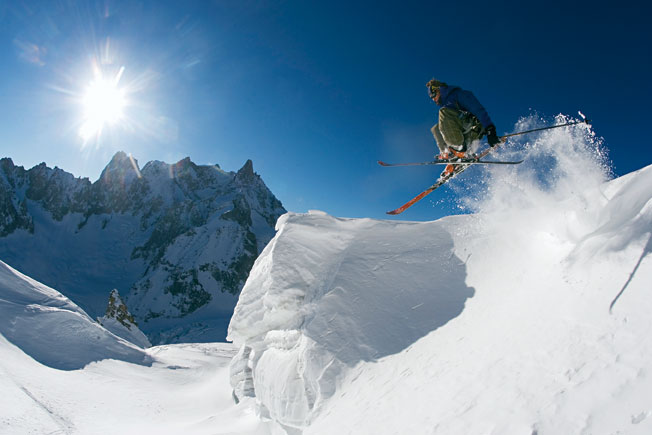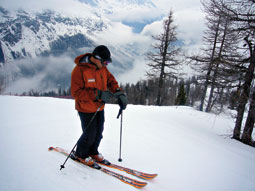 Chamonix-Mont-Blanc
High Mountain Skiing
Chamonix's reputation stems as much from the quality and variety of its ski-able domain as its off-piste skiing. However, to fully benefit from this without risk, a mountain guide and suitable equipment are indispensable.
Text: Keith W. Strandberg
Chamonix-Mont Blanc is the quintessential ski resort, nestled in one of the most picturesque mountain valleys in the world. Boasting six separate ski areas, Chamonix-Mont Blanc is guaranteed to offer enough slopes of varying levels of difficulty to keep you busy for years. The best way to see Chamonix is with the help of a local mountain guide, as these trained and nationally-certified professionals know the ski areas -Les Houches, Les Grands Montets, Brevent and Flegere, Le Tour, Aiguille du Midi (2000m - 3300m), the Valley Blanche and other off-piste areas - like the back of their hands.
I hooked up with one of the best, Franck Moscatello, 48 years old, for a day of skiing in February. "Chamonix is the best place in the world for all varieties of skiing," he told me. "At the resorts, there are perfect situations for beginners, families, intermediate skiers and there are also a lot of challenging slopes. In addition, you can always find something new here. Even after several decades, I am still finding new areas, new trails, new things to try."

Perfect Snow, Imperfect Conditions

Because the Chamonix-Mont Blanc valley is so big (the largest ski area in all of France), if conditions aren't good in one area, all you have to do is jump in your car or take the Chamonix ski bus to another area. This is where the knowledge of a mountain guide can really come in handy. Not only do they have years of experience on the pistes and trails, they are equipped with all the training, tools and equipment needed to gauge the conditions. Watches are a part of every skier's equipment package, but mountain guides use equipment that is much more advanced.
A typical mountain guide's watch includes an altimeter, a barometer, a temperature gauge, a compass...as well as telling the time. While skiing with Franck, I was testing the same Linde Werdelin Biformeter Elemental watch and Land Instrument Franck uses, which offers all of the above and more. "Going off piste, you need an instrument like this, so you don't get lost and you can stay on top of the conditions, to stay safe," Franck explained. "I use the instrument every day. As a mountain guide, I really depend on this watch for my life and the lives of the people I am taking into the mountains." When the fog rolled in while we were skiing, the instrument became invaluable, as Franck gauged the chances of the weather improving by consulting the built-in barometer and the altimeter. In the heaviest fog, the compass came in quite handy. Luckily, Franck didn't often have to consult his watch, as he knew his way down all the slopes. In fact, he became a mountain "Pied Piper" as people followed us down the mountain.

The Vallee Blanche

Chamonix is renowned for one of the most famous runs in Europe, and the longest, the Valle Blanche, the White Valley - an off-piste adventure that goes on for 24 kilometres. It's not that difficult a run as intermediate skiers can attempt it, but staying on course and out of danger is the challenge, which is why you need a guide to take you through. In fact, just a week before my visit to Chamonix, a skier died in the Vallee Blanche, after a fall into a crevasse. The weather didn't cooperate on this trip to Chamonix-Mont Blanc, preventing Franck and I from doing the Vallee Blanche. Rest assured, however, that I am going back. And, to stay alive in the Vallee Blanche, I'll be meeting up with Franck again.

For a listing of mountain professionals to guide you around Chamonix, please visit www.chamonix.com.
Read the rest of the article in the Mountain Report magazine - Where to find ?