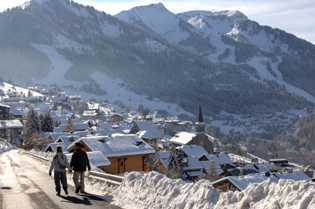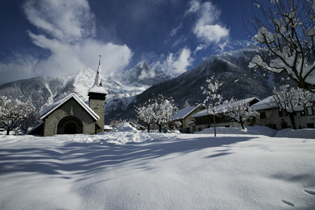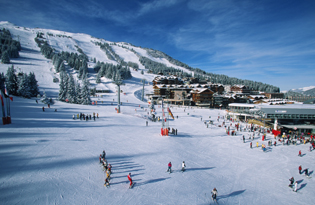 The Snows of neighbouring France
Passport to glide
The pleasure of snow can also be savoured in neighbouring France. Here's a detailed review of the four fashionable resorts.
Sporty Chamonix
Nestled at the foot of Mont-Blanc, Chamonix remains the unmissable spot for thrill seekers. Celebrated by the most experienced skiers for the exceptional height variations of the Grands-Montets domain, the Chamonix resort is also a paradise for families, beginners as well as all those who practice sports other than skiing in the mountains. The valley comprises two other domains, Brévent-Flégère and Balme, providing varied skiing as well as an ideal playground for snowboarders. For the very young and those who are donning their skis for the first time, four small domains accessible from the centre of Chamonix, Le Tour, the bottom of the valley, or even from the village of Argentière, enable a gentle initiation into learning and progressing. Finally, for the hotheads, Chamonix is this year getting into Speed Riding.

Not to be missed
Nocturnal FIS Mens slalom on 1st and 2nd February 2009 in Les Planards; Winter Outdoor Games from 15th to 22nd February 2009, the largest outdoor event in Europe combining sports performances, film and photo festivals.

For further information: tel. +33 450 53 00 24 or www.chamonix.com

The authentic Châtel
Its geographical location makes Châtel one of the most Swiss of French resorts. It is a good reason to discover this resort renowned for its boardsport domain. From the Z'ALP, a 250 m piste secured by nets along which you can measure your speed, to the two snow parks ranging from the Smoothpark for beginners, to the Happy Park for experienced riders or even the cross-country ski pistes, Châtel has everything to appeal to those who are keen for a whole range of activities in a guaranteed family atmosphere. In fact its location in Abondance valley, labelled the 'Pays d'Art et d'Histoire' (Region of Art and History), offers a lot more than sporting enjoyment. A certain warmth in the welcome for visitors, a gastronomy based on farm products and typical traditional architecture make Châtel a Mecca for good living.

Not to be missed:
A 'Rando raid' or hiking trek teams up with huskies accompanied by 20 of the world's best mushers from 11th to 14th January 2009 in the Portes de Soleil; Montée du Linga "La Patrick Blanc", French championship of uphill mountain skiing, April 2009. For further information tel. +33 450 73 22 44 or www.chatel.com

Courchevel, queen of glide
Courchevel can be discovered little by little via the hairpin bends of a beautiful mountain route. You approach it in stages. Initially, at 1,100 m of altitude: Saint-Bon, a typical Savoie administrative centre is where the resort's history began when it welcomed its first tourists back in 1925. A few bends later, you get to Praz at 1,300 m, where the ski jumps harp back to the Olympic Games of 1992. As such, at the end of a hairpin route punctuated by traditional chalets and houses, Courchevel is revealed at 1,850 m, as are its kingdom of pistes which snake between the pine trees. The added bonus of the area is its profusion of hotels and chalets which can be accessed whilst your skis are still attached to your feet. At the heart of the Olympic Savoie, the Saulire and its 2,738 m of altitude thus play host to holidaymakers in the 3 Vallées, across what is the largest skiable domain in the world. Equivalent to 4 times the surface area of Paris, the zone stretches across 400 km2 and is laid out around various boardsport terrains for kids and adults alike.

Not to be missed
The new Maison des Enfants (Children's House) welcomes children from 18 months to 12 years in a specially equipped protected zone as well as a catering service, babysitting and ski lessons.

For further information tel. +33 479 08 00 29 or www.courchevel.com

Flaine, 4 star snow
Situated in the Haute Savoie, Flaine is one of the gateways to the Grand Massif, one of the largest connected domains in France. Kitted out in alpine skis or a snowboard, discover the pleasures of a variety of gliding terrains ranging between ski pistes, freeride and freestyle. Only a short time ago, the resort was extended with Flaine Montsoleil and the "Terrasses d'Eos", a 4 star Intrawest Resorts and Residences establishment. Blending contemporary lines with a resolutely traditional designed architecture, Montsoleil comprises, for its first year's existence, an ensemble of 145 apartments nestled amongst a forest of spruces. Swimming pool, sauna, hammam, jacuzzi, fitness room… Each resident can benefit from services offered by the Canadian promoter, famed for having created the famous "Arc 1950 Le Village" resort. All these sources of pleasure can be found at Flaine Montsoleil and are the perfect way to relax after a day's boardsports.

Not to be missed
3rd edition of the World Cross-Country Skiing Cup on 14th January 2009: an atypical track along a technical piste through the forest with a sequence of bumps and fast bends. The suspense is guaranteed.

For further information tel. + 33 4 50 90 80 01, www.flaine.com, www.intrawest.com

For further information about these ski resorts of neighbouring France, please contact the Maison de la France en Suisse, Rennweg 42, Postfach 3376, CH-8021 Zürich, Tel.: 044 217 46 02
www.franceguide.com.
Read the rest of the article in the Mountain Report magazine - Where to find ?